Temperature monitoring in food production
Do you have any questions?
We would be more than happy to help you.
Contact
Temperature monitoring
To comply with limit value,
to comply with norms and guidelines (incl. HACCP),
to guarantee product quality
and to increase customer confidence.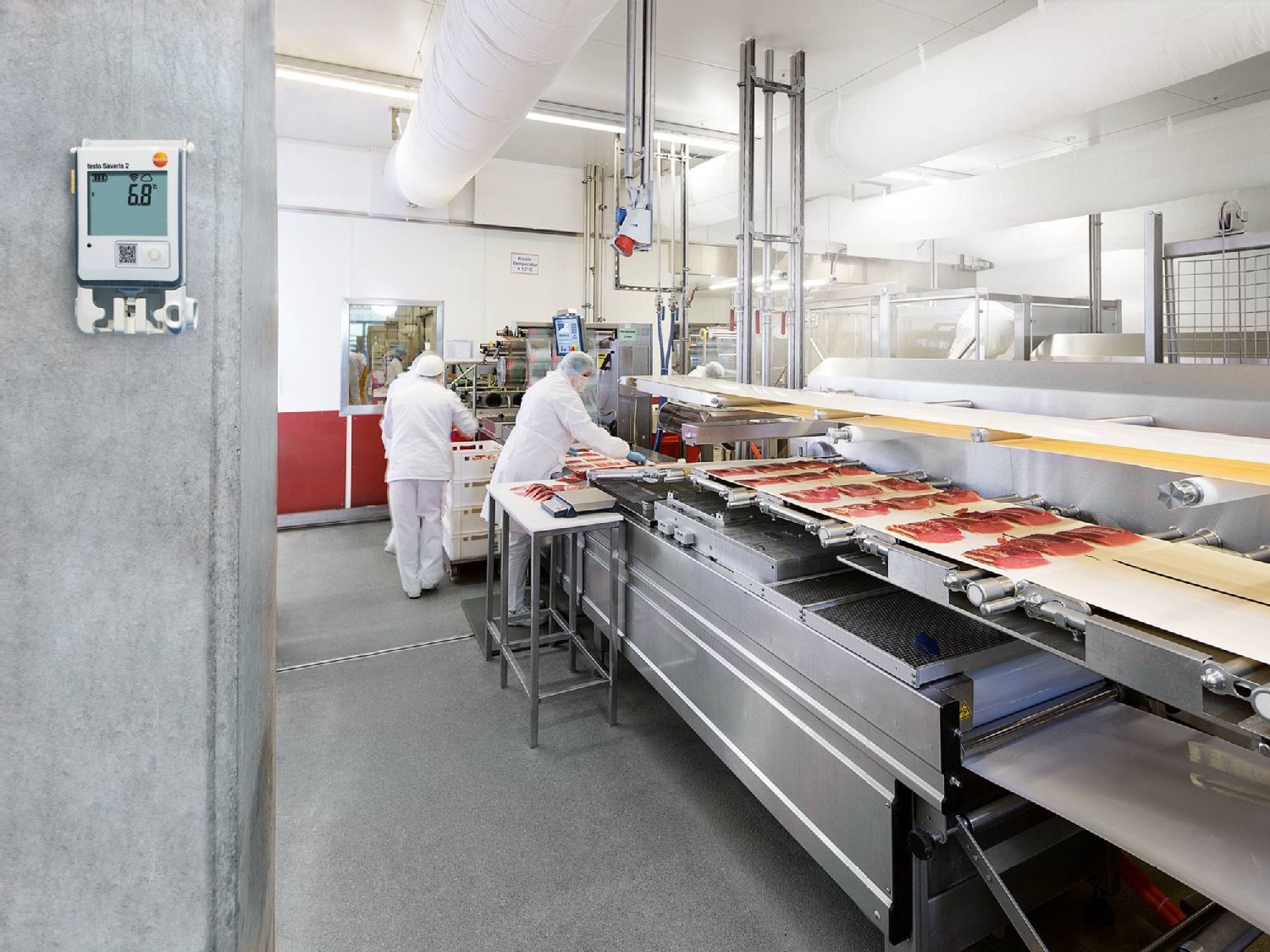 The testo Saveris 2 WiFi data logger system
For placement in storage areas, transport vehicles, production facilities, etc.
Measurement values are automatically transferred to the cloud, and stored there
Data can be retrieved at any time via a web browser – also on a smartphone/tablet
Alert (SMS/e-mail) in the event of critical values
How testo Saveris 2 boosts efficiency
Automated, reliable temperature monitoring
No more manual read-out or documentation
All data can be viewed: no matter where you are
Maximum flexibility with the Advanced licence
Find out all about our licence models
Choose the range of functions that suits you
For entry-level users: Basic licence
Free Cloud access
Pre-set measurement rate
Alarm by e-mail
Our tip: Full flexibility with the Advanced licence
Freely selectable measurement rate
Comparison of several measurement locations, in to compare different branch stores, for example.
Convenient automatic report function
Convenient alarm by SMS
How testo Saveris 2 works H4>
Monitoring temperature without too much effort
The testo Saveris 2 WiFi data logger system makes your work easier and creates added security via the alarm function. Download the testo Saveris 2 brochure here.
What we can offer food producers
We designed testo Saveris 2 to enable you to easily assemble your own customized solution using the appropriate loggers and your ideal cloud licence. Our experts will be happy to assist you.
In addition, we can offer you a special set for monitoring refrigerators, which helps you to differentiate between genuine temperature drops and slight fluctuations caused by opening the refrigerator door.
White paper "Still taking measurements? Or are you monitoring already?"
Concise expertise on automated temperature monitoring. With cost calculator.
Download: brochure H3>
Download the testo Saveris 2 brochure here