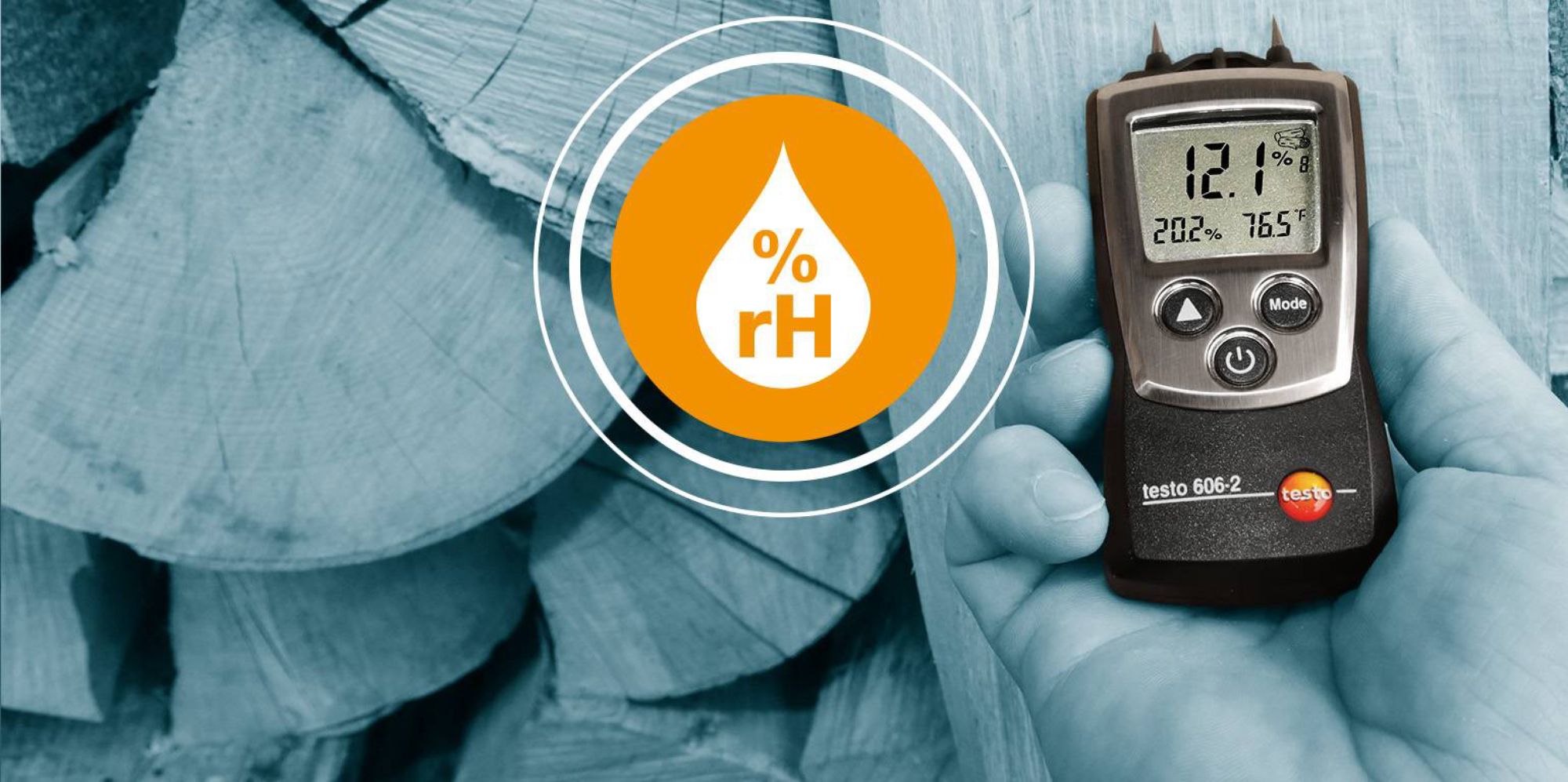 Moisture meters – indispensable for many applications
Measuring instruments for air humidity and material moisture
Reliable brand quality
A variety of models for all requirements
Moisture meters and hygrometers
Where do you want to measure humidity?
A moisture meter is always used when the moisture content in the air or solids needs to be measured accurately. One of the most common applications is measuring the moisture in the air using a hygrometer. This is particularly important for two reasons:
Excessively low humidity in rooms where people are present can have negative health consequences. The reason: The low humidity dries out the mucous membranes of humans. The result is: Our airways are irritated and more susceptible to pathogens.
Excessively high humidity can cause mould to form in rooms. Regular ventilation and heating in winter is particularly helpful in this regard. And, of course, monitoring with a moisture meter.
The right way to measure humidity
Always use the moisture meter in the middle of the room and at chest height
Wave the probe in slight movements - Caution: Your breathing air must not falsify the result
What a Testo moisture meter offers you
Measuring instruments for air humidity and material moisture
Reliable brand quality
A variety of models for all requirements
All Testo moisture meters and hygrometers at a glance
The technology involved in measuring humidity
A Testo moisture meter will normally be able to assist you for several years. There is no harm in learning precisely how these instruments measure and function.
Method for measuring humidity
Theoretically, there are more than 30 methods for measuring humidity. In practice, however, far fewer methods have proven themselves in terms of high reliability, simple application and sufficient accuracy. These methods can be divided into four groups.
Measuring humidity via change in length
This group includes the hair hygrometer, the oldest and best-known measuring method for calculating humidity. How it works: Human or horse hair (but also the synthetic fibres used nowadays) changes its length by up to 2.5% when moisture is absorbed. This change in length is indicated mechanically on a scale.
Measuring humidity via temperature changes
A wet object cools down when you blow it with air. This means that the temperature around the evaporation point is lower than the ambient temperature. And these facts are exploited by so-called psychrometers to measure humidity.
Measuring humidity via electrical changes
In this measuring principle, sensors are used to measure the humidity. In lithium chloride sensors, for example, the electrical conductivity of a surface coated with lithium chloride is measured. This allows conclusions to be drawn about the humidity, which is then displayed as readings.
Measuring humidity via visual changes
This method uses the cooling of humid air until condensate appears on a tempered mirror. And the resulting temperature once the mirror starts to mist up is the dew point temperature.
Other measuring instruments for measuring humidity
Besides moisture meters, Testo also offers lots of other measuring instruments for measuring moisture and humidity. Because not all humidity is the same, and different applications require different measuring technology. You can choose whether you want to measure air humidity or material moisture and whether you want to record readings over an extended period of time.
Measuring humidity over time
To carry out measuring tasks where a spot measurement of the humidity is not enough, here at Testo we offer humidity dataloggers. These measure and document the humidity at customized measuring intervals. So you can quickly see, in the subsequent analysis of the readings on your PC, how the humidity developed.
Measuring humidity quickly and efficiently
When it comes to multi-point measurement of humidity, a humidity meter is still the best choice. Quick to use, easy to apply and precise to measure with – that's how you keep humidity under control.
Calculate material moisture
Measuring moisture is not only needed in the air – it's needed in solids too. In the building trade in particular, it is of key importance that certain materials are sufficiently dried before further processing. And with a Testo material moisture measuring instrument, you can do this quickly and accurately.
Measuring with a humidity indicator
As you have already seen, there are many different terms for a moisture meter. And the frequently-used humidity indicator is just one of them. Basically, this also refers to a hygrometer or moisture meter.