Fully automated environmental monitoring
All quality-relevant environmental parameters at a glance at all times
Time and resource-saving recording and documentation of measured values
Avoid critical events with intelligent alarm functions
Everything in view at all times: Environmental monitoring with testo Saveris 1
Continuous monitoring and documentation of environmental parameters such as temperature, humidity or differential pressure can quickly become a challenge. The industry-leading monitoring solution testo Saveris 1 provides automated and efficient support in complying with your regulatory requirements.
Complete and seamless documentation of your measurement data thanks to fully automated recording and archiving.
Effortlessly monitor numerous measuring points of different areas and locations with just one system. 
Intelligent and comprehensive alarm management allows you to react at all times to unwanted events before serious consequences arise - you will no longer miss any limit value deviation
An audit trail valid according to international standards as well as electronic signatures document every event performed within the system.
Redundant system backup measures ensure that no measurement data is lost even in the event of power failures or disconnections.
Worldwide access to all your measurement data at any time with simultaneous secure local data storage. All quality data ready for the next audit at the push of a button.
The complete solution from a single source
testo Saveris 1 supports you in four ways. The environmental monitoring system records and analyzes your critical environmental data, alerts you immediately if limit values are violated and can help you optimize your processes. For this, the all-in-one solution uses three performance-related components: Sensors, software and services
Sensors: Reliable recording of quality data. H3>
Thanks to more than 60 years of experience in the manufacture of measuring solutions and sensors, Testo has a variety of the measuring instruments you need to monitor environmental parameters. Precise and reliable sensor technology that can be optimally integrated into your processes is our top priority.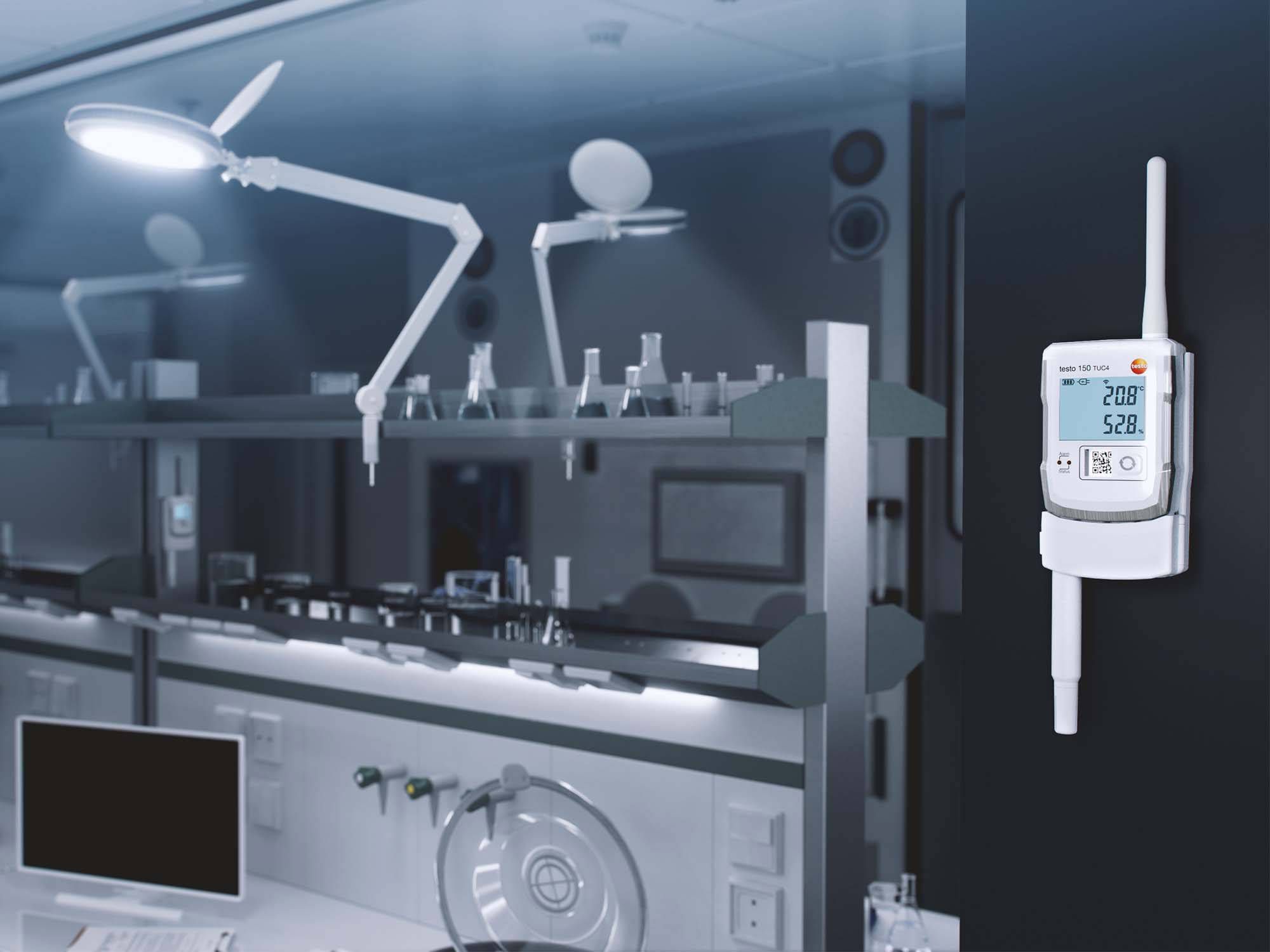 Software: Audit-proof compliance for all relevant data. H3>
The testo Saveris software enables comprehensive analysis and evaluation of all recorded measurement parameters - with access from anywhere. Detailed logging functions and secure archiving of measurement data makes testo Saveris 1 an audit-proof central data management platform that also meets the requirements of the FDA regarding 21 CFR Part 11 and Annex 11 of the EU GMP Directive.
Services: A competent partner worldwide. H3>
Our specially GxP-trained service team accompanies you through all process steps in a customer-oriented and systematic way – from planning, documentation, system qualification and software validation through to service and support. Together with you, we define a tailored service concept in all project phases. You can rely on us during operation, too. We take care of your system and its maintenance, calibration and validation.
Made for almost any application
The all-in-one solution testo Saveris 1 was designed and implemented in collaboration with experts from industry as well as research and development. High-precision measurement technology, intuitive software and comprehensive services will help you to do your job quickly, efficiently and in compliance with current regulations.
Smooth processes and convenient documentation H3>
In medical, biotechnical, chemical and pharmaceutical laboratories and cleanrooms, important climatic parameters have to be monitored. This is the only way to protect sensitive samples and maintain a high quality standard. Temperature in particular is a critical parameter that must be monitored. Humidity and pressure must also be included in standard-compliant environmental monitoring.
Safe production of sensitive pharmaceuticals H3>
If temperature-sensitive goods such as pharmaceuticals, foodstuffs or lithium batteries are produced and stored under the wrong climatic conditions, the quality and stability of the products can suffer. In most cases, internationally valid minimum standards stipulate that the relevant areas are qualified and the environmental conditions are monitored and documented in a manipulation-proof way.
More security in storage and transport H3>
In the general storage and logistics of goods of any kind, minimum standards are often required when it comes to temperature monitoring. This applies to the pharmaceutical industry and medical technology as well as to the food sector or logistics and industrial companies in general. The reason: Monitoring is the only way to ensure that the quality and safety of products are not jeopardized.
Certainty for hospitals and pharmacies H3>
In healthcare, environmental measurement solutions are used in many different areas to ensure patient safety and to reduce the risk of product losses and compliance violations. Whether in hospital operating theatres and treatment rooms to monitor medications, in a blood and tissue bank to protect samples, or in an in-house pharmacy where sensitive medications are manufactured and stored.
"Continuity of data is crucial for us. The high degree of redundancy of the testo Saveris 1 system was one of the key factors in selecting Testo and its solution as a supplier."
Operations Lead Inventory Manager of a Top 10 pharmaceutical company
---
Mobile and secure measuring points. The advantages of the radio network functionality.
10 reasons why you should opt for automation in environmental monitoring.
A compact guide to help you find the right solution for your own particular measurement challenge.


Do you require a personal consultation?